Where to Stay in Morocco
Morocco Traveler's Top 10 Riads is a hand curated list of our favorite properties which are atmospheric, historic, charming and elegant – each in their own right. The Top 10 Riads picks by our standards, offers an exceptional or unique experience for a any travelers stay during their trip to Morocco. Each property in the Top 10 Riad list is well appointed, has excellent cuisine, comfortable or luxurious amenities, and guarantees guests a glimpse into contemporary Morocco. Our Top 10 Best Riads provide an insiders view on how authenticity and luxury can be paired together during a Boutique Morocco Private Tour.
Best Riads
well appointed, charming, excellent cuisine, service and location
10. Les Jardins De Skoura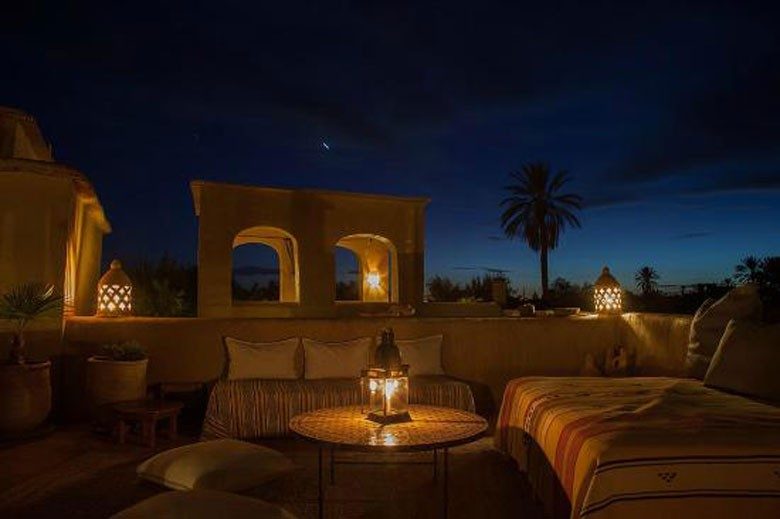 This unassuming and stylish Guesthouse off the beaten track in the Skoura palmeraie is owned and run by single handedly by Caroline and her Moroccan staff. The huge gardens are crammed with a variety of flowers and local delights, superb local cuisine and first rate service make Les Jardins Des Skoura the perfect two-day destination point in Morocco's Great South
9. Douar Samra, Tamatert – High Atlas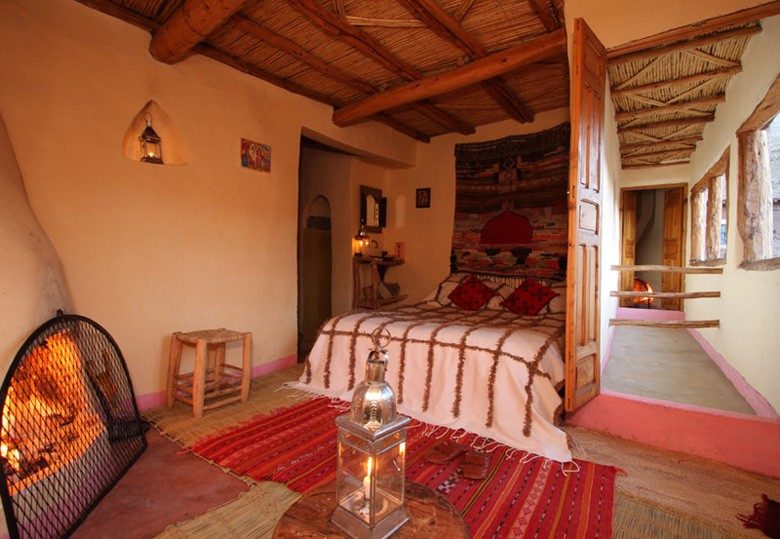 Owned by Jacqueline, a Swiss Artist, this boutique guesthouse in the heart of the Berber Village of Tamatert, is the best boutique hideaway in Morocco's High Atlas region. Douar Samra promises those who are looking for a great escape the idyllic mountain setting. Made of earth and wood and surrounded by terraces with views guests can nestle up in the room or in one of the out-door spaces to relax. Rooms are offered with candlelight only for romantics and each is decorated in traditional Berber style. Douar Samra is a top pick by Morocco Traveler's team.
8. Bab Ourika – Ourika Valley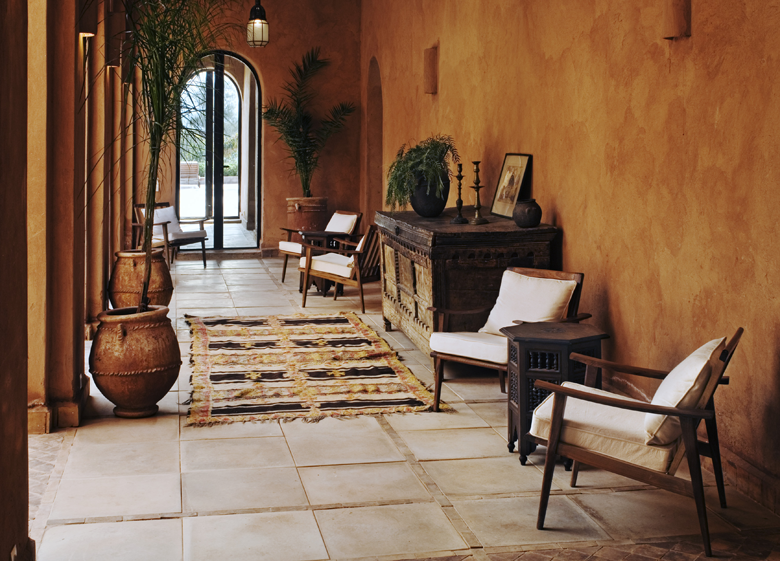 Set atop a hill the bled of Ourika Bab Ourika makes for a wonderful retreat at the end of a Morocco Tour or for a weekend get away. With breathtaking views over the Valley and lush terraces, and magnificent organic cuisine this Kasbah style property offers comfort for all. Decorated with Berber fabrics and local Moroccan earth tones the spaces are connective and intimate. The Kasbah also offers activities such as afternoon picnics in the Valley, low key or adventurous hikes along with biking. This is Morocco Traveler's Valley pick for romantics and adventurers alike.
7. Chez Pierre, Dades Valley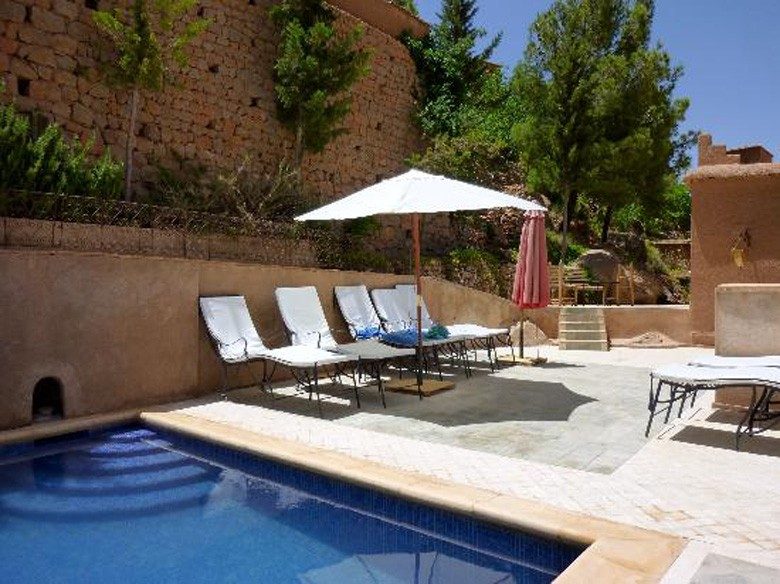 The best views and cuisine in the Dades Valley and quite possibly in Southern Morocco clearly sum up this Berber owned and run guesthouse. Located just below the magnificent Dades Gorge there is no better place for a panoramic experience for a Moroccan traveler.
6. Chefchaouen, Dar Meziana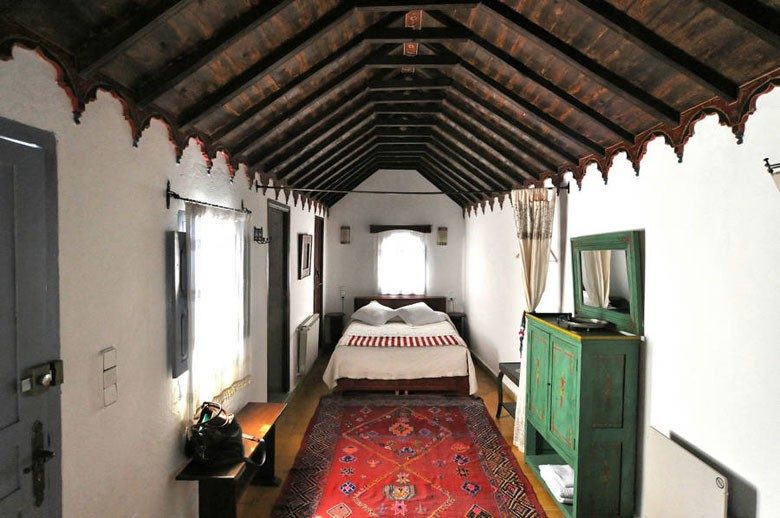 A traditional Chaouen guesthouse Dar Meziana is Morocco Traveler's choice for romantic couples and single travelers in the dreamy blue washed city of Chefchaouen. Decorated with local textiles and furniture. Stay in their Suite for intimacy and simplicity. Rooms are small and designed with love.
5. Riad Al Kantara, Fes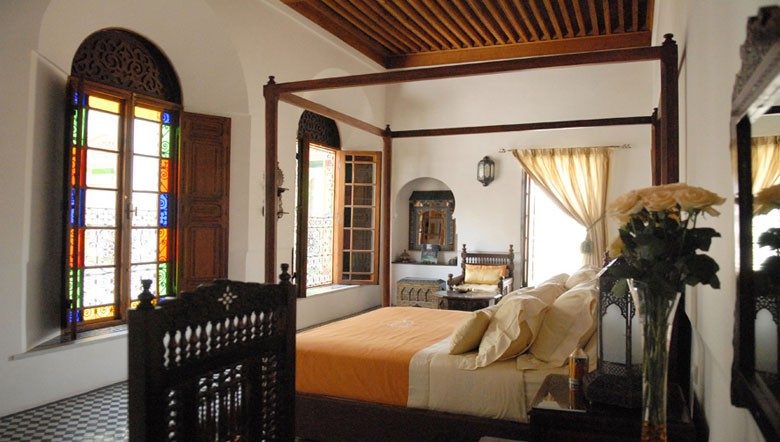 A one-of-a-kind property in the Fes Medina. Riad Al Kantara is unique and is an ideal place to stay for those planning to linger in Fes for a week or more. Moroccan salons and terraces abutt a majestic expansive garden and a swimming pool complete with an open-air courtyard. Created with love Riad Al Kantara fills an artistic space in the world of riads that is to be appreciated and enjoyed.
4. Riad Fes, Fes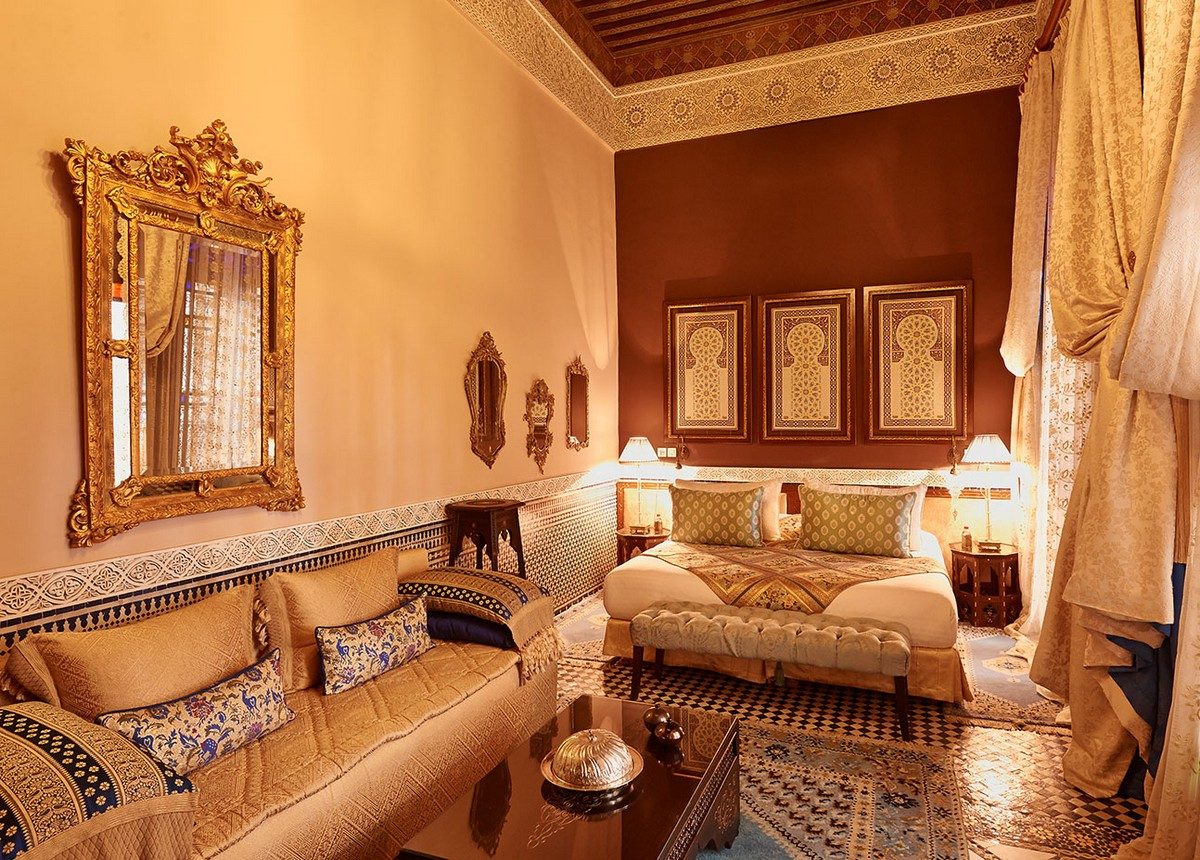 Riad Fes is an extremely popular riad that combines traditional and modern Moroccan architecture. Riad Fes offers the finest service in Fes medina. This riad is extremely large, as it is the combination of three riads that were fused together. With two patios and two pools, a traditional Fassi courtyard along with large rooms and suites, Riad Fes is sleek and chic. The new pool areas have a standing garden and a spa that is relaxing and very Moroccan modern. The garden at Riad Fes has orange, lemon, and bay trees that overlook the fountain. This is the best of the best in Fes, and a Relais Chateaux property as well. Quite possibly one of the most beautiful and elegant properties in Morocco, Riad Fes is an architectural landmark with the utmost class for world travelers. Owned by an architect and his wife, Chakir and Fouzia Sefrioui, each space has been hand curated and designed to the hilt. For those who desire to stay in an Arabian Nights luxurious tale atmosphere of extreme luxury and nobility Riad Fes is the place to be.
3. Riad Samsli, Marrakech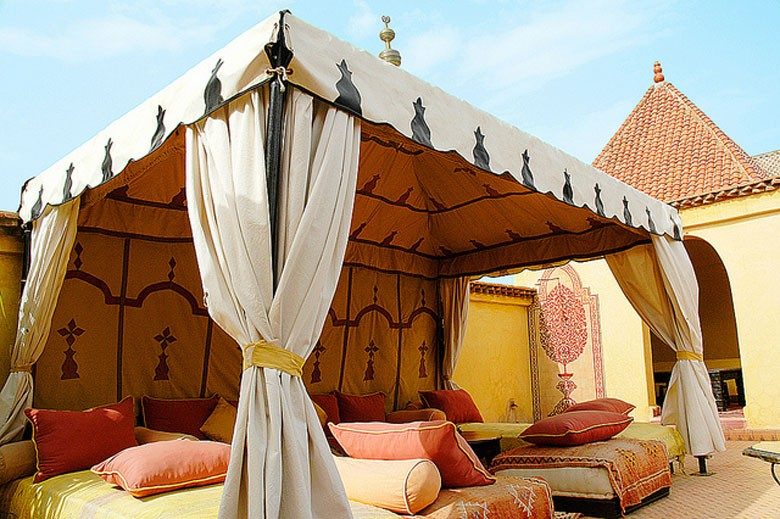 A riad of charm and old world delight Riad Samsli is Morocco's Traveler's pick for couples and families looking for a charming and reasonable place to stay in Marrakech with great ambiance. The riad can also be offered as an exclusive to our travelers. An oriental affair of patios, colorful painted rooms, a dipping pool, terraces and a Berber tent for dining this is the perfect riad for budget travelers.
2. Maison MK, Marrakech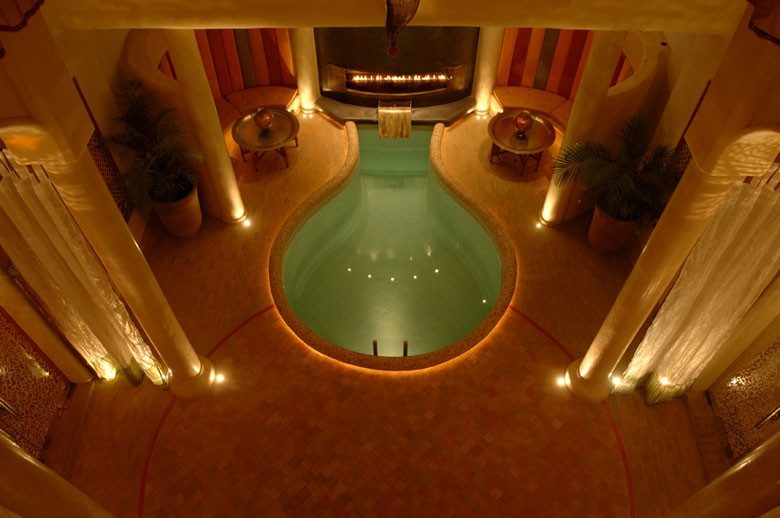 A place of indulgence and luxury Maison MK is a sophisticated and chic riad just two-minutes from Djemaa El Fna Square. Owned by a former fashion photographer and his wife, this purely indulgent property guarantees a memorable stay. Maison MK's design has fused traditional Moroccan materials and Berber motifs to create a warm and contemporary ambiance. A zen fireplace of glass and metal marks the riads center stage instead of a traditional Moroccan courtyard. Printed silks, hanging fabrics and a romantic plunge pool are standout assets for every visitor to take in. Maison MK's kitchen is well run and offers up a five course gastronomic dinner with a Moroccan touch. Creative specialty drinks and designer menus that change regularly make the restaurant a must place to dine for guests and visitors alike. Morocco Traveler has coined Maison MK as the best chic riad in Marrakech perfect for those looking for the ultimate contemporary experience in the "red hamra" city.
1. La Sultana – Marrakech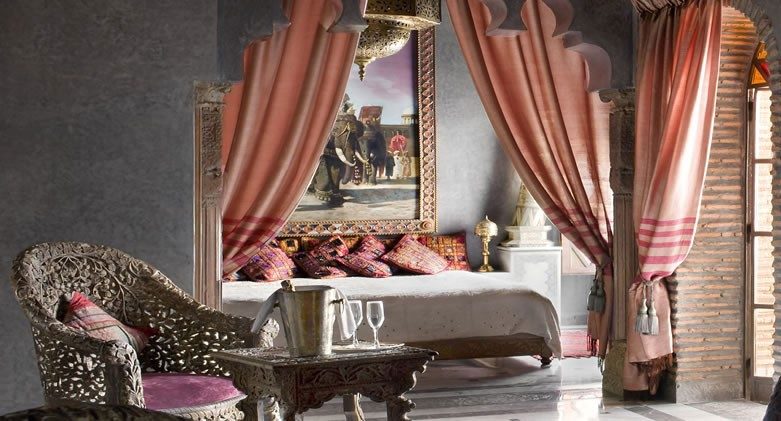 A signature riad and a boutique, Luxury Hotel of the World La Sultana is stately and eccentric offering a one-in-a-lifetime stay for luxury travelers to Morocco. The La Sultana hotel brand has been carried in Morocco through La Sultana Marrakech, La Sultana Oualidia and the new La Sultana Yaht. Marrakech's La Sultana is a timeless palace for design lovers. Several traditional riads were paired together by the French owners to create the crown jewel of Marrakech. Traditional Uzbek fabrics alongside African Art, Iranian sculptured plates and Moroccan architecture are paired together in such a way to create an intimate experience and cozy atmosphere. The rooftop terrace offers views of the snowcapped Atlas Mountains. A Morocco Traveler #1 pick and not to be missed.